Cryptocurrency
Another step to make life easier with the use of Bitcoin ATM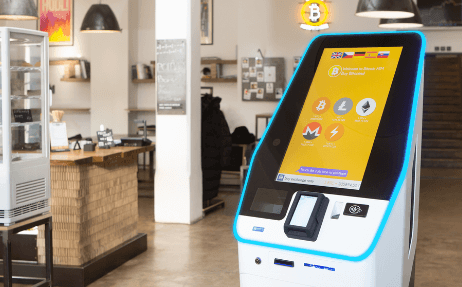 Bitcoin is the digital currency that first came into existence in 2009. The difference between note currency and bitcoin or cryptocurrency is that cryptocurrency is decentralized, meaning it is independent of any bank or government.
It may feel amazing that the creator of bitcoin is still anonymous. World doesn't have any information about the developer or creator of this currency, but still, many people use it worldwide, believing that this will be the near future currency.
The transaction of bitcoins is now possible. The one way of the transaction is through a bitcoin atm. Bitcoin atm's are available across the globe at random locations. To know what a bitcoin atm is and how it works, keep reading the content below.
What is a bitcoin atm?
Bitcoin and simple traditional atm have a little difference, which is bitcoin atm exchanges bitcoins and other cryptocurrencies. You can use cash or debit cards to buy bitcoins, which is possible using the bitcoin atm. 
To use a Bitcoin ATM, a person typically needs to have a cryptocurrency wallet, which is a digital wallet that can store and manage cryptocurrencies. The wallet can be either a software wallet or a hardware wallet.
About Localcoin
The role of localcoin in the transaction of bitcoins is on the next level, especially when we talk about Canada. Localcoin has more than 800+ bitcoin atm in random locations across Canada. With this high figure, localcoin win the title of largest Canada's bitcoin network. The goal and vision of local coin are very clear, to make cryptocurrencies accessible to everyone.
How localcoin atm works
The working method of localcoin bitcoin atm is quite simple. You can easily exchange cash for bitcoins or any other coin, and the same is true in reverse. Mean you can exchange bitcoin for Canadian dollars.
The 3 easy steps through which you can exchange are mentioned below.
Verification is the first step to ensure the transaction is safe and legal. This step just requires the verification of the phone number. In case of a large transaction, you may require an additional ID.
The second step is to scan the QR code.
In this step, you need to insert the cash you want to exchange in bitcoin. The cash you exerted in the machine will directly transect the bitcoins into your cryptocurrency wallet.
Localcoin blogpost
Blogpost is one of the best ways to get knowledge accordingly. Localcoin provides all the news and information about cryptocurrency. Through a blog post, they familiarize users with new terms in cryptocurrencies.
Where can you mostly find the bitcoin atm?
In most cases, you can find bitcoin atm in the places such as shopping malls, airports, and other stores. But still, bitcoin atm is not as common as traditional credit card ATMs are.
In most countries, it becomes difficult and almost impossible to find a bitcoin atm near you. To know whether you have a bitcoin atm near you, you can use different websites for that, and localcoin is one of them.
Finally, This was a short introduction to localcoin bitcoin atm. Hope you enjoyed it and found it useful. Apart from bitcoins, there are many other cryptocurrencies with which Ethereum, Binance coins, and Tether are familiar.