Auto
Custom Honda Accord Upgrades That Will Turn Heads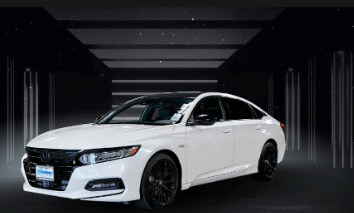 Are you ready to take your Honda Accord to the next level? If you want to turn heads and make a statement on the road, then it's time to invest in some custom upgrades. From sleek body kits and bold spoilers, to flashy wheels and high-performance exhaust systems – there are plenty of ways to give your ride a personalized touch that reflects your unique style. In this blog post, we'll explore some of the hottest custom Honda Accord upgrades out there. So buckle up, because it's about to get exciting!
Interior Upgrades
Looking to make your Honda Accord stand out from the rest? Check out these interior upgrades that will have heads turning!
Custom Seat Covers: Give your Accord a unique look with custom seat covers. There are a variety of colors and materials to choose from, so you can really make your car your own.
Steering Wheel Cover: Add some personality to your Accord with a steering wheel cover. You can find ones that match your seat covers or go for a contrasting color to really make things pop.
Shift Knob: Change up the look of your shift knob for a more unique and custom look. This is a quick and easy upgrade that can really make a difference in the overall appearance of your car's interior.
Floor Mats: Custom floor mats are a great way to add some style and protection to your car's interior. There are many different designs and materials available, so you can find the perfect set for your Accord.
Dashboard Cover: A dashboard cover is a great way to personalize your Accord and protect your dash from sun damage. You can find covers in a variety of colors and materials to match or complement your other interior upgrades.
Exterior Upgrades
Whether you're looking to add a personal touch to your Honda Accord or want to make it stand out from the rest, there are plenty of exterior upgrades you can do. Here are some custom Honda Accord upgrades that will turn heads:
Custom Paint Job
One of the best ways to customize your Honda Accord is with a custom paint job. You can choose any color or design you want, and have it applied by a professional. This will definitely make your Accord one of a kind!
Aftermarket Wheels
Another great way to customize your Accord's appearance is by upgrading to aftermarket wheels. There are many different styles and designs available, so you can choose something that fits your personality. Aftermarket wheels will also improve your Accord's performance.
Body Kit
If you really want to make your Accord stand out, you can install a body kit. Body kits come in many different styles, so you can find one that matches your taste. They also add function to your Accord, as they can improve aerodynamics and cooling.
Engine Upgrades
For anyone who loves their Honda Accord but wants to make it even more impressive, there are a few key engine upgrades that can really turn heads. First and foremost amongst these is a cold air intake system. This kind of system replaces the Accord's standard air filter with a high-flow filter, allowing more air to enter the engine for increased power and efficiency.
Another great engine upgrade for the Accord is a performance exhaust system. This will not only add a significant boost to power output, but also give the car a much more aggressive sound that is sure to turn heads whenever you rev the engine.
Of course, these are just two of the many possible engine upgrades that can be made to the Honda Accord. For even more power and performance, consider adding an aftermarket turbocharger or supercharger kit. With any of these upgrades, your Accord will be sure to stand out from the crowd!
Audio Upgrades
If you're looking to really turn some heads with your custom Honda Accord, then one of the best ways to do it is with an audio upgrade. There are a ton of different ways that you can go about doing this, so it's really up to you to decide what route you want to take.
One option is to simply upgrade the stereo system that came installed in your Accord. This can be done by replacing the head unit, adding new speakers, or even installing a subwoofer. If you go this route, just make sure that you don't go overboard and end up with a system that's too loud and obnoxious.
Another option is to install a complete aftermarket audio system. This will usually involve replacing the head unit, speakers, and subwoofer, but it can also include other components like amplifiers and signal processors. Again, make sure that you don't go too crazy with this option or you'll end up with a car that's more annoyance than enjoyment to listen to.
Whichever route you decide to take, an audio upgrade is definitely a great way to set your custom Honda Accord apart from the rest. Just be sure to use restraint and avoid going overboard so that you end up with a car that sounds as good as it looks.
Customized Accords
When it comes to finding the perfect car, many people have different opinions. Some people prefer smaller cars while others want something that is a bit bigger. There are also those who like to stick with a certain brand. For example, Honda has been a popular choice for many years.
One model of Honda that is often chosen by drivers is the Accord. This vehicle offers a variety of features that make it appealing to a wide range of people. The Accord can be customized to meet the specific needs and wants of the individual driver.
There are a number of ways to customize a Honda Accord. For instance, the car can be outfitted with different types of wheels, tires, and other accessories. The paint job on the car can also be changed to match the taste of the driver. In addition, the Accord can be equipped with a variety of aftermarket parts and products.
These are just some of the ways that a Honda Accord can be customized. There are many other options available as well. When it comes to customizing a car, there are really no limits. It all depends on what the driver wants and needs.
Conclusion
Customizing a Honda Accord is an exciting way to make your vehicle unique and stand out from the crowd. With these simple upgrades, you can make sure that your Honda Accord is looking its best while also giving it some extra power and performance. Whether you are looking for a few aesthetic changes or some major transformation, these custom Honda Accord upgrades will help you get the look that you want without sacrificing quality or reliability. So go ahead and start upgrading – with just a few tweaks here and there, your Honda Accord will be turning heads in no time!